International Year of Light
Pittcon is proud to be an Associate Sponsor for the International Year of Light and Light-based Technologies (IYL 2015).
IYL 2015 is a cross-disciplinary educational and outreach project with more than 100 partners from over 85 countries.
Learn More
Pittcon Events
More About IYL
Technical Program and IYL
To celebrate the International Year of Light and Light Technologies, the Pittcon Technical Program will include
more than 100 sessions and courses covering topics in spectroscopy and related topics.
1000 Years of Light Technology
It's been a busy millennium in the world of light science, so to celebrate the International Year of Light 2015, Pittcon has decided to illuminate some of the key bright ideas of the last 1000 years.
We hope you enjoy the timeline below and
Here's to the next 1000 years!
Click the icons below to find out more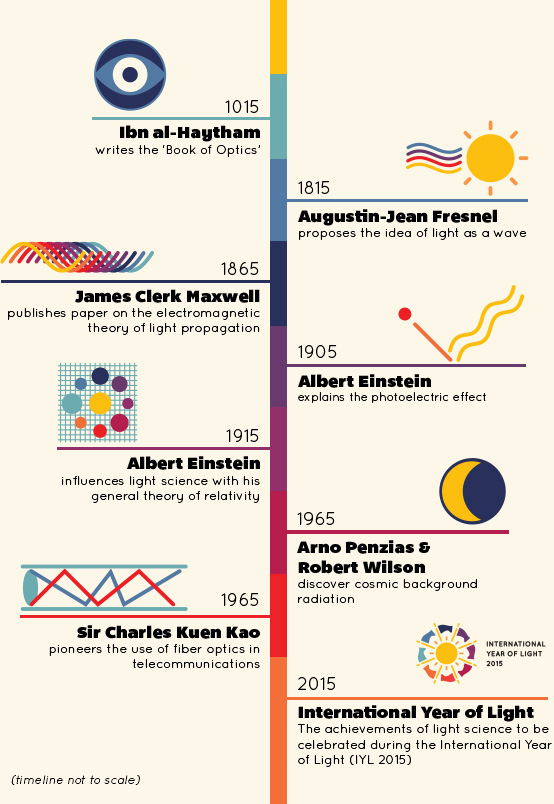 "Timeline of Light Technologies"
Ocean Optics will be sponsoring an exciting interactive display, "Timeline of Light Technologies".
The display, a museum type theme, will show the history of light technologies over the years and bring awareness for the problem solving potential of light technology.
---
Light, Color, and Spectroscopy
This Pittcon spectroscopy workshop was presented to the Renew School in New Orleans on February 9.
---
The International Year of Light – SAS
This special session, "Fundamental Science-driven Infrared Spectroscopic Imaging for Clinical Diagnostic Systems", will be presented by the SAS (Society of Applied Spectroscopy).
Date: March 9, 2015
Time: 9:45 AM
---
The Early Days of Modern Infrared Spectroscopy: The First Three Years of FT-IR
The Coblentz Society/SAS will present a "60 Year Celebration of the Coblentz Society" symposium organized by Peter Griffiths.
Date: March 9, 2015
Time: 8:35 AM
An Interview with Wesley Legant
Live-Cell Imaging with Lattice Light Sheet Microscopy
In this interview, as part of our coverage of the International Year of Light 2015, Wesley Legant talks about his work on lattice light sheet microscopy, which represents a leap forward in live-cell imaging.
WS: You will be speaking at Pittcon in 2015 – could you give us a brief introduction to the research area you will be discussing?
WL: One of the main challenges in fluorescence microscopy is how to image living biological samples at high spatiotemporal resolution without perturbing the specimen. Increasing spatial or temporal resolution requires that the sample be illuminated with more intense light, which in turn reduces the amount of time one can image for, before photobleaching or phototoxicity damage the sample.
Compounding matters, conventional widefield or confocal microscopes illuminate the entire three-dimensional depth of the specimen, yet detect in-focus fluorescence from only a single two-dimensional plane. This makes these systems very inefficient for 3D imaging of living specimens.
---
More International Year of Light Articles from AZO Optics
On 20 December 2013, The United Nations (UN) General Assembly 68th Session proclaimed 2015 as the International Year of Light and Light-based Technologies.
This International Year has been the initiative of a large consortium of scientific bodies together with UNESCO, and will bring together many different stakeholders including scientific societies and unions, educational institutions, technology platforms, non-profit organizations and private sector partners.
In proclaiming an International Year focusing on the topic of light science and its applications, the United Nations has recognized the importance of raising global awareness about how light-based technologies promote sustainable development and provide solutions to global challenges in energy, education, agriculture and health. Light plays a vital role in our daily lives and is an imperative cross-cutting discipline of science in the 21st century. It has revolutionized medicine, opened up international communication via the Internet, and continues to be central to linking cultural, economic and political aspects of the global society.
So Why all the Celebration?
Celebration will Highlight the Global Importance of Light.